Reporting Our Progress
Our annual ESG Report aligns with leading ESG and sustainability reporting frameworks.
Global Reporting Initiative (GRI): The GRI Standards are fundamental to our reporting process. The 2022 ESG Report has been prepared in accordance with the GRI Universal Standards 2021. See our GRI Content Index for an overview of disclosures on our material ESG topics.
Sustainability Accounting Standards Board (SASB): As a diversified manufacturer, we report to both the Electric & Electronic Equipment and the Industrial Machinery & Goods industries. See our SASB Disclosure for details.
Task Force on Climate-related Financial Disclosures (TCFD): We strongly support TCFD and align with the Task Force's voluntary disclosures. See our TCFD Disclosure for details.
World Economic Forum (WEF) Stakeholder Capitalism Metrics: We disclose our performance against the WEF's Stakeholder Capitalism Metrics to demonstrate our performance on sustainability topics and contributions to the United Nations Sustainable Development Goals. See our WEF Stakeholder Capitalism Metrics Disclosure for details.
CDP (formerly known as the Climate Disclosure Project): We voluntarily respond to CDP's Climate Change and Water questionnaires.
Materiality
Conducting a formal materiality process helps us understand the most salient ESG topics to the business and our stakeholders. In 2022, we conducted a materiality assessment and updated our topics, which inform our ongoing ESG strategies.
We began the materiality assessment by identifying a wide range of ESG topics. Following the topic selection process, we engaged over 170 internal and external stakeholders, who provided valuable insights and feedback on ESG topics through surveys and interviews. 
External stakeholder feedback informs the vertical (y-axis) of our matrix. The vertical axis considers how important it is for Trane Technologies to address topics given their direct or indirect impacts on people and the planet. The horizontal (x-axis) is informed by internal stakeholders and considers how important each topic is to our business success. After collecting stakeholder feedback and defining our matrix, we conducted a topic ranking exercise to determine which topics we should monitor, those we should maintain and manage for compliance and positive market position, or those we should prioritize as strategic opportunities.
We consider the topics in the matrix's upper right section (Strategic Opportunities) to be most material to our company. These priority topics guide our ESG strategies, initiatives, and commitments. We take an active approach to maintaining, managing, and monitoring all ESG topics relevant to Trane Technologies, including those that currently lie outside our matrix's Strategic Opportunities section. Over time, our focus on these topics may shift due to stakeholder interests or business opportunities, among other factors. We intend to update our materiality assessment regularly to ensure our ESG strategies remain relevant, targeted, and impactful. 
Our material topics include: 
Greenhouse Gas (GHG) Emissions
Business Integrity
Technology & Innovation
Diversity & Inclusion
Energy Efficient & Low Emissions Products
Sustainable Product Design & Life Cycle
Energy
Climate Risk
Company Culture
Our Material Topic Matrix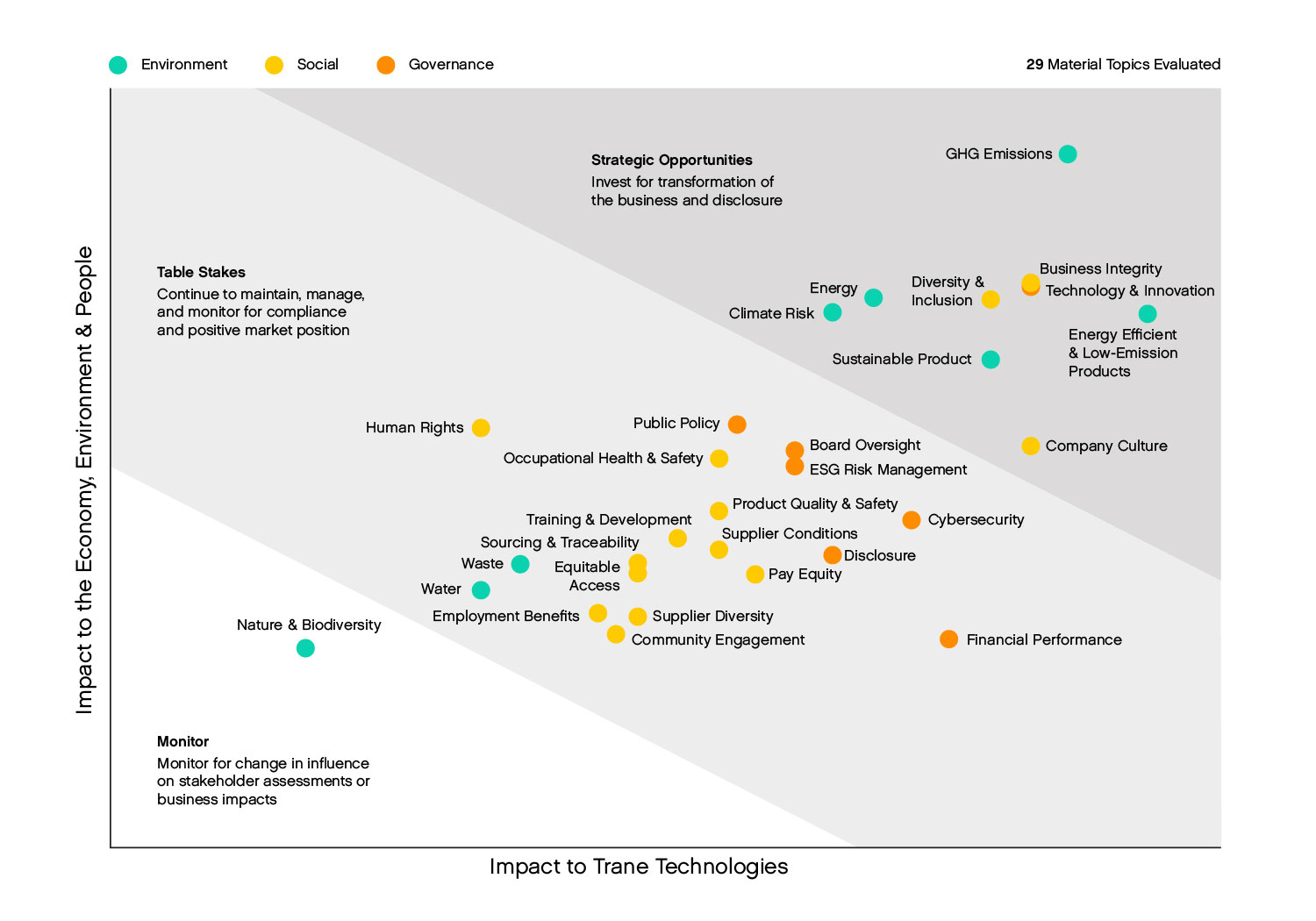 We are committed to reporting on and continually enhancing our disclosures on these topics. Our 2022 ESG report outlines our management approach, data, and initiatives for each of these material topics. Our report is reviewed by our subject matter experts, the Center for Energy Efficiency and Sustainability (CEES), our internal and external Sustainability Leadership Councils, and our Board of Directors. 
Materiality, as used in our 2022 ESG Report and sometimes referenced as "ESG materiality," is different than the definition used in the context of filings with the Securities and Exchange Commission (SEC). Issues deemed material for ESG purposes may not be considered material for SEC reporting purposes.
A Note About Our Data
Throughout our 2022 ESG report, we define our organizational boundary using the financial control approach and report on Scope 1 and 2 greenhouse gas (GHG) emissions using the GHG Protocol. We believe this most accurately reflects the direct impact of our operational footprint. The company's Scope 3 product-related emissions are those emissions associated with the product-use phase and cover greater than 95% of the revenue associated with our diverse product portfolio. For data associated with the company's 2030 Gigaton Challenge commitment, heating and cooling output is normalized for growth in order to capture product performance improvements. 
We report data from newly opened and acquired facilities as soon as valid data is available. For recently closed or sold facilities, the data is included for the time a site was part of the company to ensure year-over-year comparisons remain consistent. As such events occur, baselines are adjusted to account for these operating footprint changes. As our data collection system continues to mature and improve, the environmental data we report improves in accuracy and expands in breadth. 
Data is presented in absolute terms and is normalized by company revenue (intensity). Our safety data is normalized by the number of hours worked. 
Our environmental, health, and safety (EHS) data and GHG emissions data are assured annually by an independent third party, including the product use emissions contributing to the Gigaton Challenge. View the results in our 2022 Assurance Statement. 
Forward-Looking Statements
Our 2022 ESG Report contains certain forward-looking statements, which are statements that are not historical facts, including statements regarding our 2030 Sustainability Commitments; our pathway to net-zero by 2050; other ESG targets, goals, commitments, and programs; and other business plans, initiatives, and objectives. These forward-looking statements are based on our current expectations and are subject to risks and uncertainties, which may cause actual results to differ materially from our current expectations. These forward-looking statements generally are identified by the words "believe," "project," "expect," "anticipate," "estimate," "forecast," "outlook," "intend," "strategy," "plan," "may," "could," "should," "will," "would," "will be," "will continue," "will likely result," or the negative thereof or variations thereon, or similar terminology generally intended to identify forward-looking statements.
All such statements are intended to enjoy the protection of the safe harbor for forward-looking statements within the meaning of Section 21E of the Securities Exchange Act of 1934, as amended. Our actual future results, including the achievement of our targets, goals, or commitments, could differ materially from our projected results as the result of changes in circumstances, assumptions not being realized, or other risks, uncertainties, and factors. Such risks, uncertainties, and factors include the risk factors discussed in Item 1A of our most recent Annual Report on Form 10-K and subsequent quarterly reports on Form 10-Q filed with the SEC. We urge you to consider all the risks, uncertainties, and factors identified above or discussed in such reports carefully in evaluating the forward-looking statements in our 2022 ESG Report.